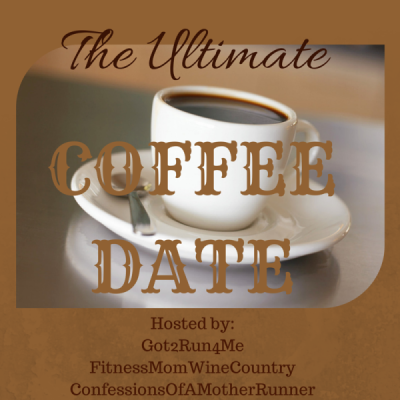 I'm excited to participate in the June 2015 Edition of the Ultimate Coffee Date hosted by Coco, Deborah and Lynda. Don't forget to drop by their website and leave some love :)
This is my first time participating in the Ultimate Coffee Date linkup-- grab a cup of your favorite coffee, pull up a chair, and join me!
If we were having coffee I'd tell you that I can't believe May is over already! It was a pretty fabulous month, filled with lots of fun and fitness. I participated in two instagram challenges-- the #REALwomenmove Challenge and the #LoveYourHips Yoga Challenge. It was my first time participating in anything like that, so I was ecstatic and overwhelmed when I was one of the winners of the #REALwomenmove Challenge! I won entry into the Skirt Sports 13er and $125 gift certificate. The 13er can be run virtually so head on over to their website, sign up, and run with me next weekend :) I put in a lot of miles in May (112 running 237 cycling!) including one hot, humid, and hilly half marathon.
loving my Skirt Sports Vixen skirt
If we were having coffee I'd tell you how excited I am to be finally growing Unapologetically You. It seemed to take forever, as I started this blog halfway through 2013. Slowly, but surely, it's growing. With a little help from the Sweat Pink community I'm meeting so many bloggers who I share the passion of living and promoting a healthy, active, and sustainable lifestyle. I'm now part of a Mastermind Group for Fitness Bloggers and Entrepreneurs and I'm giddy thinking about all the greatness that will come from it. Assignment 1-- 2015 blog goals!
If we were having coffee I'd tell you that I'm officially going on the Grand Canyon rafting trip in November! Well, as official as you can get this far out. I've committed to it anyway :) I'll be enjoying beautiful nature for approximately 3 weeks. No phone. No Internet. But don't worry-- I'll be going all old fashioned and I'll be journaling every day of the trip so I can make sure to tell you all about it when I return! Since we don't know the exact number of days that the trip will take, I'll be buying a one-way airplane ticket with a TBD return date. My boss loved it when I told him that haha.
(Speaking of work..) If we were having coffee I'd probably grumble to you a bit about work. And of course I'd let you grumble too :) I'm pretty sure a few people from work might read this, so I won't be going into detail. Let's just say there is a personality or two that I am having quite a difficult time dealing with. And as always there's the reaction of "Seriously?" to certain things I disagree with. As the "Choose Happiness" sign I hung at my desk reminds me daily.. I choose my path, my reaction, my feelings. On the flip side-- our intern is back and she's awesome!
If we were having coffee I'd tell you that I had a breakfast date with one of my BFFs the other day. And I had a lunch date with another good friend last week. I also had fun at the local Wine & Design with some friends.
Girl time rocks :)
My long time BFF is getting married this year. I'm in the bridal party (woo woo!) and we started planning her bridal shower. I got put in charge of the invites. It was so much fun to pick out something pretty for her. I hope she loves them!
perfectly themed for the Ultimate Coffee Date
If we were having coffee I'd tell you
that I graduated with my Master of Science in Engineering Management in May! Of course my family came to visit for the ceremony and it was great to have them here for the weekend. And speaking of family I ordered my mom's birthday gift, but I'm a little behind on a Father's Day gift. I'll figure something out in time. For some reason the June celebrations always seem to sneak up on me.
you can call me "master" if you'd like ;-)
Whew! There was a lot to tell you about for the month of May.
Now tell me-- how was your month? Do you have any big trips planned this year? Have you set some new goals from yourself? Or spent time with friends and family? I'd love to hear about it! Feel free to leave me a comment :)