Welcome to another guest post at Unapologetically You! Today I bring you Ashley from
Diary of a Fit n Healthy Diva
. Ashley is a wife, mother of two boys, full time Human Resources Professional, and a part time fitness professional who has recently discovered a passion for running. Ashley teaches several fitness classes ranging from Aqua Aerobics to Step Aerobics to Zumba Fitness.
Her recipe for a happy life??
Live, Laugh, Love!
Thank you so much, Ashley, for being part of Unapologetically You.
__________________________________________
It's been a while since I've blogged, but I'm back! I thought I'd blog about one of my favorite 5K races. RumpShaker 5K was founded in 2009 by family and friends in honor of Lisa Martz's battle with colon caner. RumpShaker, Inc. is a nonprofit organization with a mission to promote awareness and raise funds to fight colon cancer. Funds raised will go to the GI Labs of local hospitals in Birmingham, AL where colonoscopies and other colon screenings are performed. Additionally, funds will go to educate and raise awareness of colon cancer throughout the community.
I was super excited to run the race, especially considering the weather had picture perfect all week. The day of the race it was cold and rainy. Blahhh!! You would think that would put a damper on the race. NOT! Everyone was in high spirits and the energy was amazing!
I arrived at 7am to take pictures with my run groups "Black People Run, Bike, and Swim" and "Black Girls Run". Parking was well-organized, and I had to walk maybe a block to the start line from my parking site.
There were three corrals total. There was a corral for the 24 minute and under finisher, 24-29 minute finisher, and 30 minute/walker finisher. Although no one monitored the corrals, everyone seemed to go to their assigned corral with no issue. The race started on time and people were not "bunched" up preventing a smooth takeoff. There was no gear check, but that wasn't an issue for me. I did not see any port-o-potties, but then again, I wasn't looking for one.
Once my feet hit the timing chip sensors I took off. I had no clue how fast I was running, I just knew I wanted to finish strong. About a minute into the race there was a short hill that was pretty decent, short and sweet. The rest of the course was flat which allowed me to cruise until I got to about 2.95 miles. We looped the same hill that we started with in the beginning of the race. Well, on the return I quickly realized the hill going back up was LOOONNGGG. I cursed under my breath but I was ready. It was a pretty long hill, but once you got to the top the finish line was near.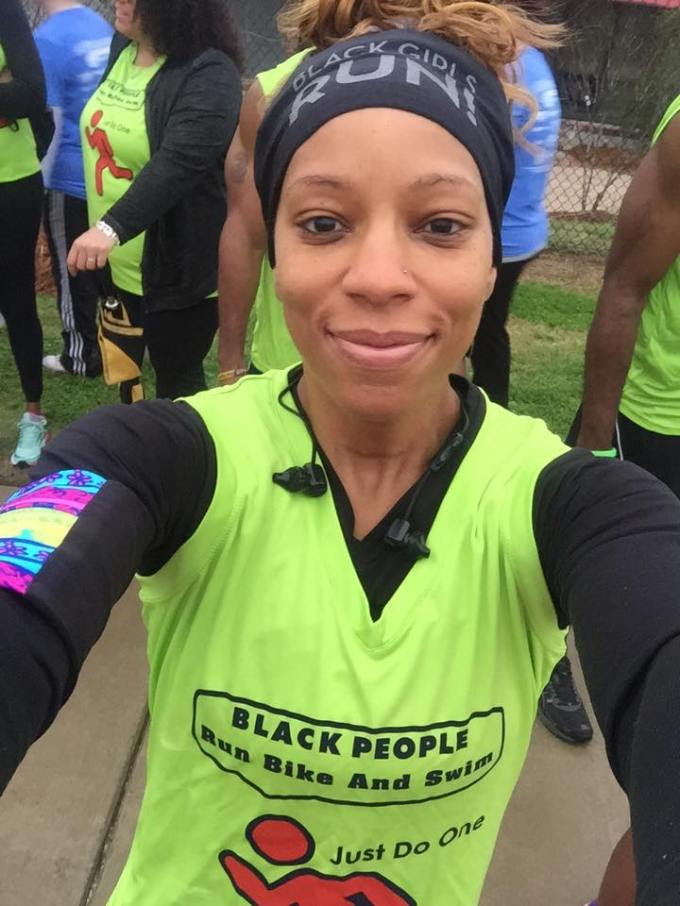 As I see the finish line, I look at the time on the clock and confusion sets. Once it registers I realize I'm about to PR!! I took off in a mad dash and crossed the finish line super excited! Once I recovered and grabbed a bottle of water, I head to the Best Times booth to get my time. I nearly fainted at what I saw!!
Not only did I PR, I shaved three minutes off of my best time AND I ran a pace I had never run before! I was super excited to support such a worthy cause and PR while doing it! Medals were given to colon cancer survivors only. It warmed my heart to see survivors walking around with amazing medals. They are medals of courage in my opinion.
Post race refreshments were very plentiful. There were tons of bananas, oranges, doughnuts, water, and McDonald's had a setup for smoothies. How cool was that? There were plenty of vendors giving away information regarding colon cancer, and there were plenty of goodies they gave away like sunglasses, pens, bags, etc. All in all I give this race 5 starts. It was very well-organized, there were plenty of water/Gatorade stops in between, and several post race refreshments. More importantly, supporting the cause and fellowshipping with wonderful running family was priceless.
__________________________________________
"Who loves a good race recap? Someone scored a major PR! #sweatpink #fitfluential #run"
I always love a good race recap, and this race sounds pretty darn good. Good cause, good course, good food and good people. Congrats Ashley on such an incredible PR!
Thanks again, Ashley, for joining us today!
Make sure to stop by Ashley's website and social media channels to say hi!
Blog | Instagram | Facebook
Your turn! Did you race recently? What distance? What was your favorite part?
♥AK